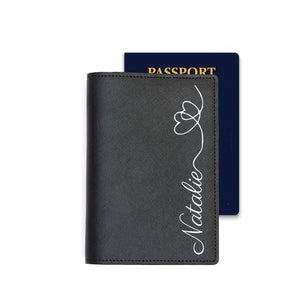 Your practical travel companion
Protects your passport and adds organization to your travels
Personalizable with monograms or name
Fits all passport sizes
Product Details
Material: Saffiano cow leather
Color: Black
2 slots for cards such as credit, debit cards, ID's
1 slot for tickets and bills
1 slot for your passport
Personalizations
Add your name, monograms or special dates to give your items a more personal feel
We will email you the mockup for confirmation
After we've made sure that the design is to your liking, we will start processing your order
We also accept special design requests. Please contact support@bisubisu.com to get started.
Product Description
When travelling outside or in an airport, it's quite annoying and stressful to rummage through your bags to find the right travel documents especially when the leaving time is approaching.
How about using a passport holder to keep your valuable passport, some cards, cash and other IDs organized in one place?
Get a Bisu Bisu passport holder for you and your family and say goodbye to hectic airport moments..
Shipping
We support worldwide shipping
Processing time: 2-3 workdays for items without customizations; 4-5 workdays for items with processing time
For detailed shipping times, please refer to our shipping policy